This is a repost of an old blog entry I made after my friend and I went to see Andre Rieu during his tour of Australia in the spring/summer of 2008. While he may not be to everyone's tastes, I admire him for his showmanship and his ability to make a living doing what he loves. I mean, who else gets to tour the world playing a priceless violin with a life-sized replica of a Viennese castle?
---
Originally posted on Sat, 29 November 2008 at 05:12 while listening to "Bolero" by Ravel, performed by Andre Rieu and the Johann Strauss Orchestra and feeling envious.
I love Andre Rieu. Benny and I went to see him in concert last night at ANZ Stadium and it was awesome. Sadly, I found out very late that cameras, photos and videos were actually permitted and all I had on hand was my crappy phone. There were literally hordes of people descending on ANZ Stadium to see Andre in concert.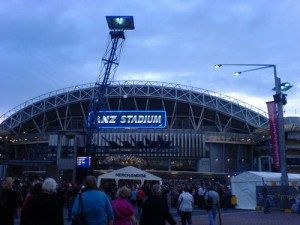 The first thing you notice as you walk into the stadium is the giant life size replica of the Schonbrunn Palace. My crappy phone just doesn't do it justice. This is only a tiny part of the set: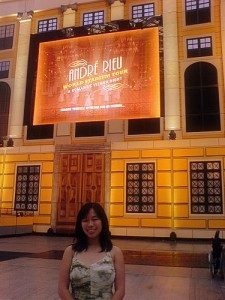 You also notice the massive FOUNTAIN: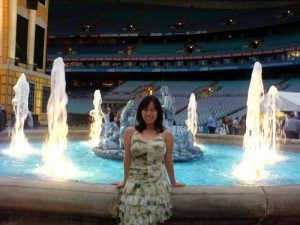 This fountain was unbelievable. A fountain. I kid you not, he had a fountain travel around with him. Not just one, but TWO (there was one on either side of the stage)! These twin fountains were synchronised with the music, kind of like a mini travel-sized pair of Bellagio fountains.
And then there was the massive stage.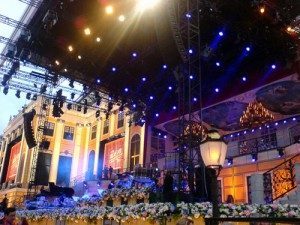 Yup, that's a replica of a Viennese ballroom, complete with golden chandeliers AND uniformed footmen/doormen (whom you can't see in this photo), behind the wrought iron railings and street lamp. Not to mention a pair of ice rinks either side of the stage: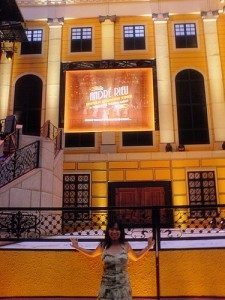 I really can't do this justice, so here are two photos from the official Andre Rieu website showing the most incredible set I have ever seen (not the Sydney concert):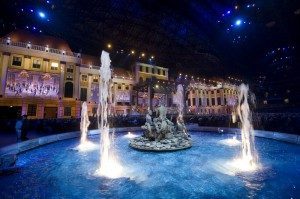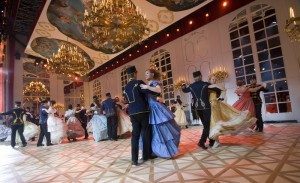 This is where Benny and I were sitting, in section B2, row X, seats 4 and 5. These tickets retailed for $269 each from Ticketek, but we scored them for a sweet $200 a-piece from eBay.
I'll be honest, I'd been really worried when first we had some communication issues and taking a bit longer to collect our tickets than I expected, and that I was really, really hoping that the tickets wouldn't be ruled invalid. Even so, these Category 2 tickets only landed us seats this close far away and angled away from the stage. There were a LOT of people there: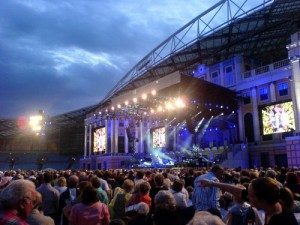 Given the distance of our seats made all the performers appear about the size of Tom Thumb to us, most of the time we spent watching the show on one of four massive screens mounted in the wall of the castle: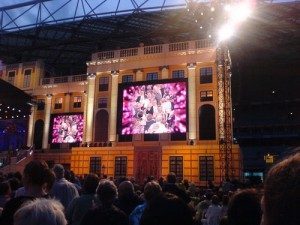 The Johann Strauss Orchestra and Choir was dressed to the nines in finery no less extravagant and impressive than that of the entire set: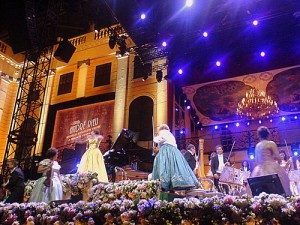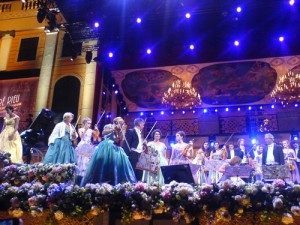 This is seriously like no other classical concert I've ever been to. It had champion figure skaters: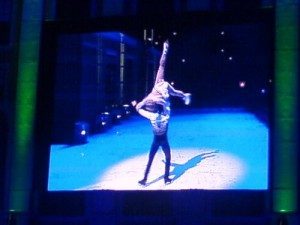 …a golden carriage drawn by six white horses…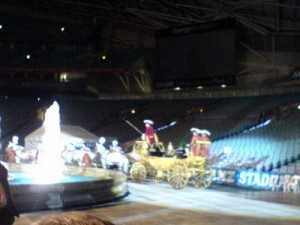 …dancers from the Vienna State Opera Ballet and 80 Vienna Debutantes…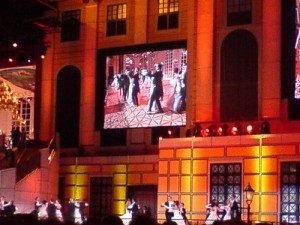 …great showmanship throughout the entire concert. Andre and all his performers make wisecracks and jokes the whole night, pulling some well-practiced gags. This is a memorable moment where Béla Mavrák, one of the Platinum Tenors, comes onstage singing away happily, bearing an enormous pot of what is presumably goulash for – according to Andre and the orchestra – the umpteenth meal in a month.
Andre, I have a surprise for you…..I made goulash for you and entire orchestra!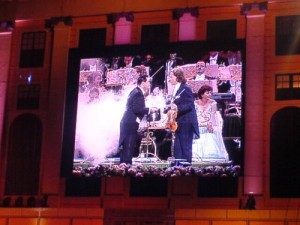 I, of course, couldn't resist getting closer to the stage during the intermission to check out the piano. Too far away to tell who the maker was, but my fingers were definitely itching to play it.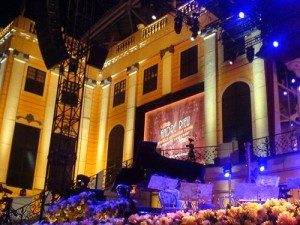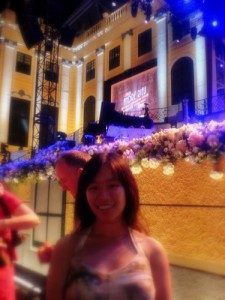 The evening was marred only by the fact that it had been pouring in the late afternoon and consequently all the seats and plastic floorboards protecting the grass of the stadium were wet; and that the stadium is under a direct flight path. Nothing quite like sitting enraptured by divine sounding music only to be rudely shaken out of it by the roar of a 747 flying overhead.
All in all, a fantastic show, with some truly great performances of classics like Ravel's Bolero, mixed with contemporary pop ballads like "My Heart Will Go On", musicals ("Wishing You Were Somehow Here Again" from Phantom) the Australian national anthem and a bunch of classic Australian songs: "Waltzing Matilda", "Botany Bay" and a medley including themes from "Bananas in Pajamas", "Home Among the Gum Trees" and "Neighbours".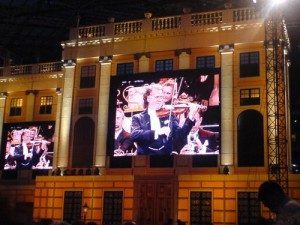 I love Andre Rieu. It's a good thing he doesn't tour here all that often, otherwise I'm pretty sure I'd go broke. As it is, I'm strictly forbidding myself any more theatre events until next year.
And once again, as always, back to studying for CA. *sigh*