This is a repost of an old blog entry I made during my stay in New York City as an exchange student to New York University at the beginning of 2008. That single semester was the most incredible four months and has changed my life more than I could possibly imagine.
Rent is a through-composed musical by Jonathan Larson. Based on Puccini's La Bohème opera, it took Larson seven years to write and he tragically died the night before the off-Broadway premiere. Set in the early 1990s, Rent deals with a number of controversial issues of that decade, such as homosexuality and HIV/AIDS. It is the eighth longest running Broadway show and closed shortly after my stay in New York.
I grew up listening to the soundtrack of Rent on repeat. I knew all the songs by heart – and consequentially the story – before I ever saw the stage production. Rent is arguably my favourite musical of all time (Wicked and Phantom can give it a good run for its money) because I can identify with it so strongly and it strikes so many personal chords. I am so glad that Sony decided to preserve it forever in the Rent: Filmed Live on Broadway
DVD and I strongly recommend you to watch it.
---
Originally posted on Fri, 27 March 2009 at 08:44 while listening to "Without You" by the Original Broadway Cast, OST 'Rent' and feeling Reminiscent.
Now the rush of busy season is over and I've handed in my FIN109 EP, I'm finding more and more that I get home incredibly tired (thanks to a day of doing something I don't enjoy), totally unable to study for FIN and instead thinking about how awesome my life was this time last year, because I was in New York.
So I figured, what the hell, it's not like I'm doing anything else. I'm going to indulge and reminisce about how awesome New York was by writing up some waaaay overdue blog entries.
Jan 20, 2008: Times Square, 42nd Street and Rent
The words that come to mind when I think about Times Square will always have to be the immortal lyrics of "Broadway Baby" from Follies, all hopes and dreams, bright dazzling lights and marquees and music and life.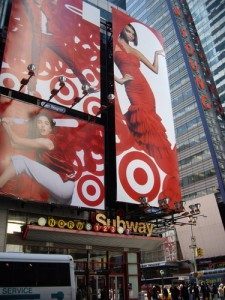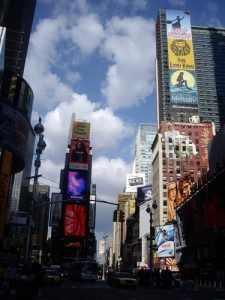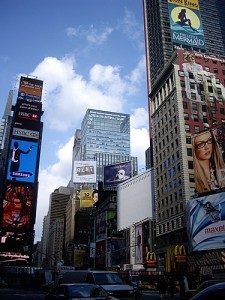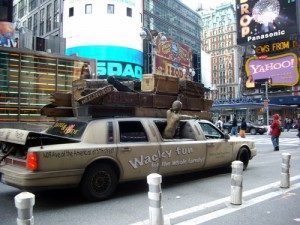 So where was our first stop in Times Square? Why, the M&M store of course! Apparently you can get custom M&Ms made with your name on them or whatever message you want. We walk in and we're greeted with walls of brightly colored coordinated chocolate…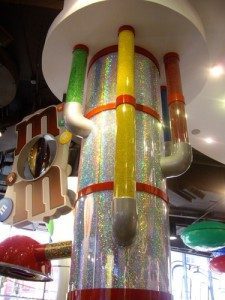 …and some very distinctive characters.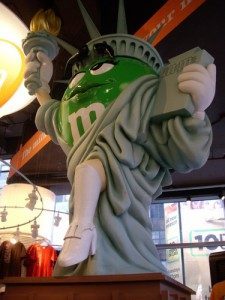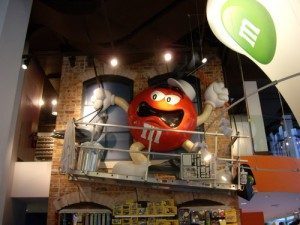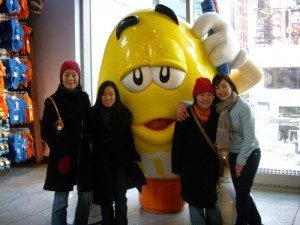 After we'd bought our front row mezzanine seats for only $54 a piece, Kat and I went to brave the hordes of crazy women mobbing the Victoria's Secret store at Herald Square while Dewi and Amanda went in search of the best cheesecake, chocolate and pastry shops in New York City.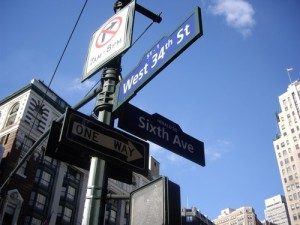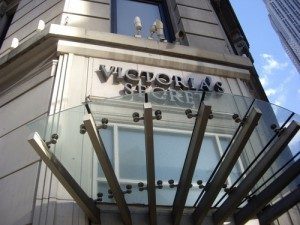 Australians think the Boxing Day Myers and David Jones sales are savage. They've got nothing on the Semi Annual Sale at Victoria's Secret. The store was so packed there was hardly room to move, with clothing thrown over every available surface as women scrambled around in a frenzy to snatch every last bargain. The lines to go to the change rooms wound all around the second floor of the store and had a minimum wait time of 30 minutes. It was so crowded in there that Kat and I lost track of each other, which resulted in a very frantic couple of hours when Dewi, Amanda and I thought some horrible mishap might have befallen her and were unable reach her since her phone had died.
Anyway, after we grabbed some dinner, we headed out to the Nederlander Theatre at W 41st and 7th Ave. By this time it was freezing cold: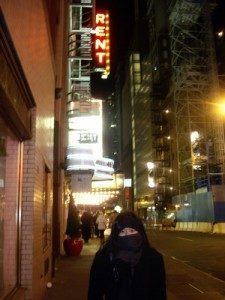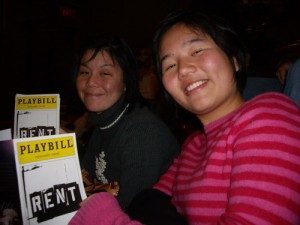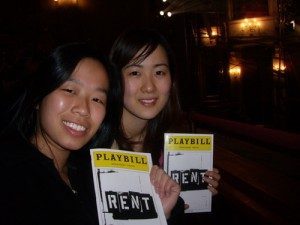 The stage design was stunning. There was this totally stark, utilitarian, industrial looking set, which was convincingly able to convey upstairs, downstairs, apartment, cafe, street, hospital, carpark and more, all in turn. Apart from moving around a few chairs and tables, there was very little moving around of major stage elements.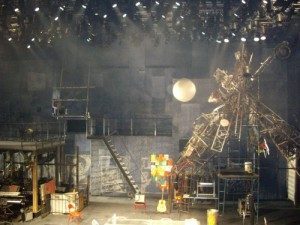 When the lights dimmed and the show started, I sat right on the edge of my seat and I didn't move a muscle – didn't breathe – until intermission. I don't really have the words to describe how amazing it was. I grew up listening to the soundtrack of Rent, before I ever knew what the musical itself was about and I knew every song of the musical by heart. It was the first musical that I watched while I was in New York and it is a musical that is so intensely New York. It absolutely blew me away.
Laughs
Rent is one of those musicals that do the impossible and combine very serious themes and achingly sad moments and yet have parts which are just bursting with fun and energy and humour. I absolutely loved the voicemails, the "Tango Maureen", that moment when Mark walks into "Life Support", and the whole role of Angel. But the key moment that stood out for me was the juxtaposition of Roger's soul searching (Adam Pascal) in "One Song Glory" which was abruptly interrupted by Mimi asking him to "Light My Candle" (Tamyra Gray). I have to say that Tamyra has been the most convincing Mimi who really took a very difficult role and made it her own.
Showstoppers
Big moments which stood out were "Rent", the close of Act I with "La Vie Boheme" at the end of Act I, "Seasons of Love", "Take Me or Leave Me" and "What You Own". It probably seems very biased but again, Tamyra"s "Out Tonight" totally blew me away with how powerful and dynamic it was.
Tearjerkers
I'm the first to admit I'm a sucker for sappy moments in music/stories; books, movies, TV shows, concerts, Broadway musicals, it makes no difference. "I'll Cover You (Reprise)", "Goodbye Love", the second half of "Finale" when Mimi is dying, "Your Eyes", I cried in all of those songs. But it was "Without You" that struck the deepest chord.
I had incredibly high expectations for Rent and it surpassed all of them. It completely blew me out of the water. I. Love. Rent. No day but today.