This is a repost of an old blog entry I made late last year, once I had decided I was going to do something about pursuing my dreams.
---
Originally posted on Wed, 23 September 2009 at 01:12 while listening to "At The Beginning", OST 'Anastasia' and feeling Inspired.
One of my New Year's Resolutions was to start doing things about my current…situation of not being in the ideal job (promotions and all aside). So this year, during the week of my birthday, I took an afternoon off and got myself was a ticket to the Talent Development Project's "Start Me Up" Master Class.
Talent Development Project: Start Me Up – Master Class
Essentially, this was a two-hour Q&A session with a panel of music industry representatives across artists, A&R executives from major recording companies, representatives from copyright/royalties bodies, music publishers and music teachers, with some free musical entertainment thrown in (no, Jessica Mauboy did not perform. Yes, Wes Carr did perform!).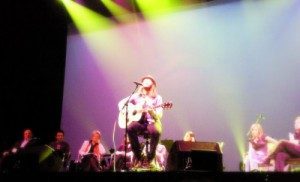 The event was very much targeted towards young performers trying to get into mainstream music, but they did have two members of the panel (Darren Coggan and Jonathon Welch) who are or have been involved in musical theatre. Most of the session consisted of the host, John Foreman, asking the panel a series of pre-determined questions aimed at facilitating discussion, with the last 15 minutes or so reserved for open questions. I wavered for a split second, decided I had nothing to lose and got to sneak in a very specific (and long) question at the very end about how to get into writing musical theatre.
And thank goodness I did. Had I not asked that question, I would not have found out about the…
APRA|AMCOS presents: Songwriter Speaks Evening – With Lynn Ahrens & Stephen Flaherty
Yup. Two weeks ago, I managed to get an invitation (courtesy of the generous Milly Petriella from APRA|AMCOS) to an intimate evening with Lynn Ahrens and Stephen Flaherty, directly as a result of asking that question in the Master Class. One of 21st Century Broadway's dream teams who have multiple nominations for Grammy Awards, Academy Awards and Golden Globes, and have won multiple greatly coveted Tony Awards. For those who don't know them, Ahrens and Flaherty are the team behind the music of the animated feature, "Anastasia", including the theme song "At The Beginning" as sung by Donna Lewis and Richard Marx. The whole evening was an incredible opportunity as they talked about their backgrounds, their early careers, how they got to where they are today and performed a few of their wonderful songs.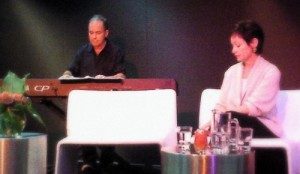 It was really inspiring to hear that Lynn Ahrens used to work in a completely unrelated field, then got to a point where she found that she was meant to be writing for musical theatre, gathered her courage and made the jump to abandon her career in advertising to work as a freelance jingle writer. Stephen Flaherty's story is also tremendously inspiring – having known what he wanted to do from a very young age, he pursued his dream through formal university music studies doggedly despite growing up in a state (state, not just suburb or city, state) where there was very little in the way of a musical theatre community, eventually making his way to Broadway, New York, New York.
And just when I thought the evening couldn't get any better, I managed to meet both Lynn Ahrens and Stephen Flaherty afterwards to ask them for some words of advice (my paraphrasing) and get some pictures:
Education will only get you so far. My studies weren't related to musical theatre at all and I didn't find them helpful. Study the greats – like Sondheim, Hammerstein – and learn from them. Musical theatre relies heavily on collaboration; get out there and meet people, get involved in musical theatre clubs and societies, develop and use your network. Don't be afraid to take your chances when you get them – just remember to find a way to keep paying the bills!
—Lynn Ahrens
I found my formal education studies extremely relevant and valuable – to the extent that they arm you with the technical knowledge and skills to write music. Once you have those basic skills, you can continue to hone them on your own. But musical theatre is all about the art of storytelling; so in fact, I would suggest you study playwriting and drama to develop your storytelling skills and learn to marry them with music.
—Stephen Flaherty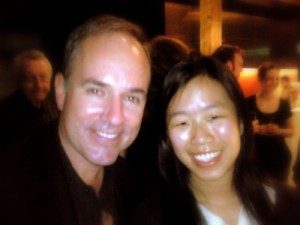 …I know, I know…I'm such a fan girl. Honestly, I was so excited and nervous that I found it really difficult to sound intelligent and form coherent sentences since the words "OMG IT'S LYNN AHRENS AND STEPHEN FLAHERTY!!!" kept buzzing around in circles in my mind.
In summary:
I've always believed it never hurts to ask and it never hurts to try. This past month has definitely confirmed this philosophy for me.
Lynn Ahrens and Stephen Flaherty are awesome and I hope I will get the chance to meet them again in the future and maybe even show them something I've written.
I need more time to go and write stuff and learn and study stuff and join musical theatre groups and keep moving this forward.